SUIT YOUR SHAPE

A GQ primer for the hard-to-fit So you're not the size of a male model—welcome to the club. Whether you're tall or short, stocky or lanky, there are style secrets to making a suit look right for your body. Here, we take four celebrated body shapes and show you exactly how to look your best—without lifting a weight or counting a calorie.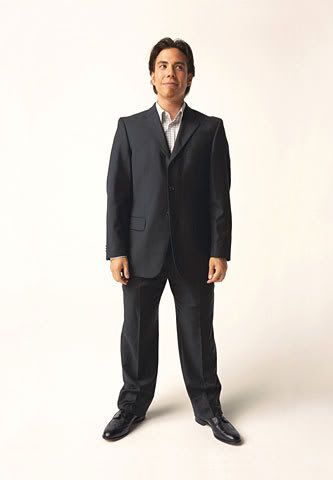 Before
The Short Man
Apolo Ohno: Gold-medal-winning Olympic speed skater, Dancing with the Stars champ
5'8"165 lbs
"All the suits I buy have to be tailored, no matter what. But it's not just because of my height; it's because I've been skating for so long. My waist is very small, but my legs are just huge. Most really nice suitmakers are Italian, and usually they make suit pants for Italian men. I'm like, Those Italians must have pretty skinny legs."

Don'ts:
• Don't wear a longer suit jacket. It just makes your legs look shorter.
• Don't wear fat ties and wide lapels; keep it slim.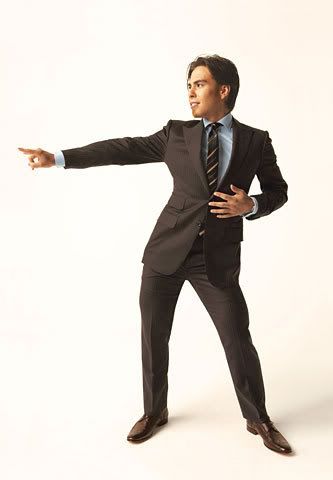 After
The 5 Tips Every Short Man Should Know
1) Be honest with yourself. Admit you're short and buy short-length suits.
2) A pant leg with very little break will help you look taller.
3) Show some cuff to lengthen the look of your arms.
4) A peak lapel helps elongate your physique.
5) A lower button stance creates long lines, and that essentially stretches you out.
Suit, $2,120, by Gucci. Shirt, $250, by Ralph Lauren Black Label. Tie, $210, by Dolce & Gabbana. Shoes, $1,100 by Hermés.

A Belt Makes You Look Shorter…
The more pared-down you are, the taller you'll appear. So ditch the belt. Going beltless looks cool, and if your suit fits properly, your pants will stay in place.

Short Man, Slim Shoe
You don't want to look like you've got weights around your ankles. Wear slender shoes.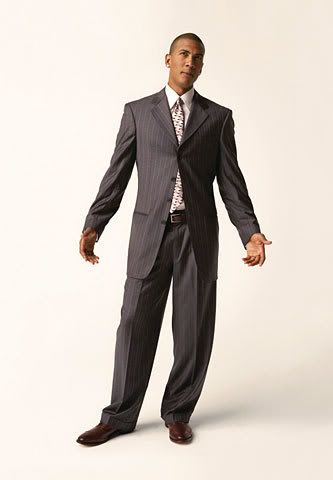 Before
The Tall Man
Raja Bell: Shooting guard, Phoenix Suns
6'5"210 lbs
"When I first got into the NBA, I tried to buy a couple of suits off the rack, but they didn't fit. To get the length I needed, I also got boxiness. They would have to taper the jacket, but then I felt like I had wings under the armpits. So I started going to a tailor. And that's the key: Pick out a good tailor and just trust him… You want the suit to fit the way you want it to fit, but let him handle the details. That's what he gets paid to do."
Don'ts:
• Don't buy suits with oversize, padded shoulders. They swallow you up, making you look frailer, not bigger.
• Don't wear extra-slim ties. You need ties with a bit of width so they won't appear to elongate your torso.

After
The 5 Tips Every Tall Man Should Know
1) Lighter colors add width to a narrow frame.
2) A two-button suit works great on a tall man—as long as the suit has relatively high-cut lapels.
3) Just because you're tall doesn't mean you need an extra-long suit size. Try on a long first.
4) Keep the amount of cuff you show to a minimum.
5) Ask for a decent amount of break in your trousers, so your long legs don't look too long.
Suit, $1,830, by Prada at Barneys New York. Shirt, $640, by Jil Sander at Barneys New York. Tie, $150, by Gucci. Shoes, $315, by Allen-Edmonds.
Tall Man, Rounded Shoe
Take a pass on those pointy dress shoes—you don't want to make your feet look longer than they are. Opt instead for a slightly rounder toe, to help keep your foot size in check.

Get in the Loop
After you knot your tie, never have enough length left to reach the back loop? Don't buy a new, longer tie; just ask your tailor to move up the loop.

Divide and Conquer
When you're tall, you want your clothes to play down your height—to keep things in proportion. Accessories that cut across your body, such as belts, quarter-folded pocket squares, and horizontally striped ties, help accomplish this.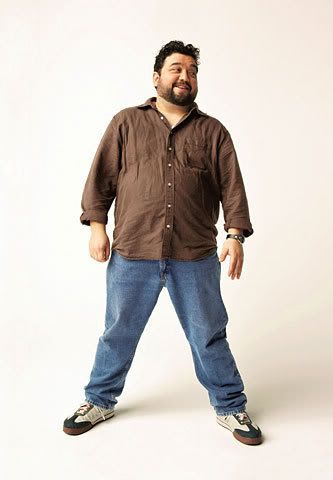 Before
The Large Man
Horatio Sanz: Actor/comedian, Saturday Night Live alum
5'9"250 lbs
"One of the problems I have is with shirts: Getting my neck size to match my body size is difficult, and sometimes the collar is too high, too—I end up feeling choked. With pants, I wear mine a little high, and sometimes they ride up too much or feel like they're going to fall off if they're not high enough. Basically, I've spent my life trying to avoid wearing suits on a regular basis. The last suit I bought from a store was for my junior prom. It was kind of silver in color, and my mom adjusted it for me."

Don'ts:
• Don't wear a roomy suit. It doesn't make you look slimmer—it makes you look sloppy.
• Don't go untucked.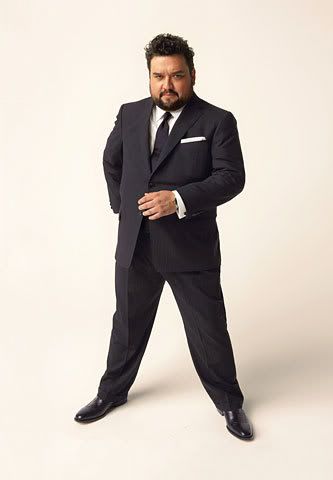 After
The 5 Tips Every Large Man Should Know
1) Wear a pocket square. It brings the focus to your chest, not your gut.
2) Keep your jacket buttoned unless you're sitting down.
3) Wear a simple, elegant shirt. Avoid plaids and checks.
4) You can wear flat-front pants. They are engineered to be comfortable, even without pleats. 5) Avoid superskinny ties and lapels. Proportion with your torso is key.
Suit, $2,485, and shirt, $235, by Ermenegildo Zegna. Tie, $170, by Dsquared. Shoes, $795, by Church's. Cuff links and pocket square by Paul Stuart. Watch by Cartier.

Suspend Your Weight
Avoid having to choose between strapping your pants above or below your belly: Wear suspenders and float your waist.

Big Man, Solid Shoe
Choose shoes that have a substantial sole. You need something solid to anchor your weight.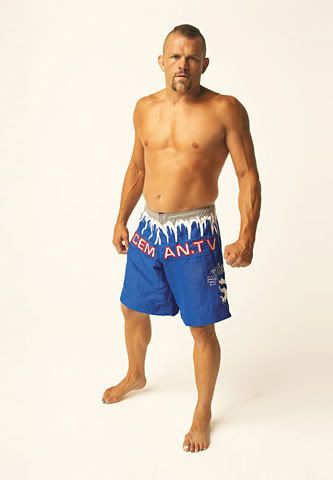 Before
The Athletic Man
Chuck Liddell: Ultimate Fighting champion
6'2"205 lbs
"I hear 'You actually look good in a suit!' a lot. It's kind of a sideways compliment. Like, What, you don't expect me to look good in a suit? But the fact is, it's hard finding something that fits right everywhere. Some of the shirts I get are too short in the torso because of my shoulders. And I have a pretty big neck for my size—between eighteen and a half and nineteen inches. A normal shirt isn't made for that big of a neck. If it is, they think you're three feet wide and weigh 300 pounds."
Don'ts:
• Don't wear peak lapels. Your chest and shoulders are broad enough—no need to accentuate them.
• Don't wear a pocket square. It's not necessary to call more attention to your already proud chest.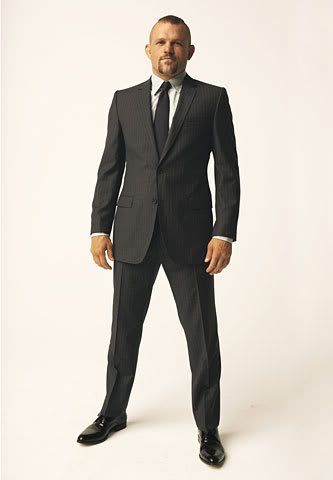 After
The 5 Tips Every Athletic Man Should Know
1) A solid build doesn't mean your suit should be a size too large.
2) Two-button jackets sync up with the V shape of your torso.
3) Low-collar shirts work well with a thicker neck.
4) Your jacket will likely need to be taken in at the sides.
5) Yes, you can wear narrow-cut trousers. It's your chest that needs room, not your ankles.
Suit, $1,995, by Dolce & Gabbana. Shirt, $695, and tie, $135, by Giorgio Armani. Shoes, $575, by Marc Jacobs.

Fit Torso, Fitted Shirt
Look for shirts labeled "slim" or "athletic." You don't need excess fabric hanging off that toned midsection of yours.

Strong Man, Solid Shoe
You don't want anything clunky on your feet, but you also don't want to look like you're wearing ballet flats.



SUIT YOUR SHAPE: Watch the video and slide show for more tips on getting the perfect fit, brought to life by GQ's fashion teamSource: mens.style.com
Every man should own a suit. It is a key staple in all men's wardrobes... I don't care what you do for a living but always have a nice tailored suit on hand. Plus, suits are hot... wear them more.