I've been trying some of this stuff and it's really been working. It is a nice option to all those expensive creams the dermatologist has you buy. Raw Honey is much cheaper, so try this out.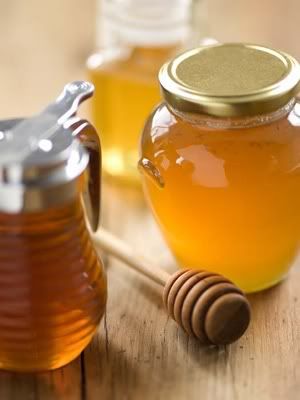 Beauty
Honey has the natural ability to attract and retain moisture and is an important factor in beauty products because of its ability to maintain softness, suppleness and elasticity.

1. Relax with a honey bath: Add 1/4 cup honey to your bath water for a fragrant, silky bath.

2. Keep your hair healthy with a Hair Shine: Stir 1 tsp. of honey into 4 cups of warm water. (Add lemon if desired.) After shampooing, pour the honey mixture through hair. Do not rinse. Dry as normal.

3. Hair Conditioner: Mix 1/2 cup honey with 1/4 cup olive oil. (For normal to oily hair, use only 2 tablespoons oil.) Using a small amount at a time, work mixture through hair until coated. Cover hair with a shower cap; leave on 30 minutes. Remove shower cap and shampoo well. Rinse. Dry as normal.

4. Honey helps clear up acne without drying your skin! Use Soothing Skin Clarifier to help clear up minor acne: Mix 1/2 cup warm water with 1/4 teaspoon salt. Using a cotton ball, apply the mixture directly to the blemish. Maintain pressure with the cotton ball for several minutes. This softens the blemish. Then, using a cotton swab, dab honey on the blemish and leave it on for 10 minutes. Rinse and pat dry.

5. Keep your skin smooth with Smoothing Skin Lotion-- Mix 1 teaspoon with 1 teaspoon vegetable oil and 1/4 teaspoon lemon juice. Rub into hands, elbows, heels and anywhere that feels dry. Leave on 10 minutes. Rinse off with water.

6. Protect your skin from sun damage by eating honey and using Smoothing Skin Lotion.

7. Make your own Honey Cleansing Scrub. Mix 1 tablespoon of honey with 2 tablespoons finely ground almonds and 1/2 teaspoon lemon juice. Rub gently onto face. Rinse off with warm water. (For more Honey Beauty Recipes, visit the National Honey Board's web site at http://www.honey.com/recipes/beauty/.)

8. Keep your skin looking young with the Honey Firming Face Mask. Whisk together 1 tablespoon honey, 1 egg white, 1 teaspoon glycerin (available at drug and beauty stores) and enough flour to form a paste (approximately 1/4 cup). Smooth over face and throat. Leave on 10 minutes. Rinse off with warm water.

9. Facial Toner -- In blender, puree 1 tablespoon honey with a peeled, cored apple. Smooth over face; leave on 15 minutes. Rinse with cool water.

10. Moisture Mask-- Mix 2 tablespoons honey with 2 teaspoons milk. Smooth over face and throat. Leave on 10 minutes. Rinse off with warm water.



Medicine
34. When eaten daily, pure honey will reduce your body's susceptibility to infections.

35. Many doctors recommend equal parts of honey, lemon and whiskey as an extremely effective cough syrup.

36. Because of honey's fructose content, many claim it is a cure for a hangover.

37. Sore throats-- Swallowing a teaspoon of honey may soothe a sore throat or cough.

38. Boost your daily supply of antioxidants by eating honey.

39. If you're feeling tired and need a boost of energy, stir a spoonful of honey into a glass of water or add honey and fresh fruit to yogurt for a power-packed snack!

40. Honey is a great source of vitamins and minerals, such as vitamin B6, thiamin, niacin, riboflavin and pantothenic acid.



Energy Boost
Honey is a great source of energy. For a quick boost of energy:

41. Stir a spoonful of honey into your morning juice or afternoon yogurt.

42. Sweeten your coffee or tea with honey.

43. Drizzle honey on your favorite cereal or look for home-sweetened cereals in the grocery store.

44. Make a peanut butter and honey sandwich.

45. Dip apple slices and other fresh fruit in honey.

46. Eat a spoonful of honey before your morning jog or exercise routine.

47. To replenish energy and fluids, stir a spoonful of honey into a glass of water.

48. Spread honey on toasted bread, bagels or English muffins.

Soource: Sue Bee Honey

Testimonials are encouraged!