- Chrisitan Dior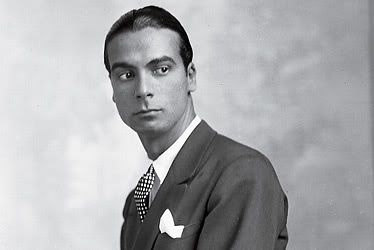 Cristóbal Balenciaga Eisaguirre was a Spanish fashion designer and the founder of the Balenciaga fashion house...

Balenciaga was successful during his early career as a designer in Spain. He opened a boutique in San Sebastián, Spain, in 1914, which expanded to include branches in Madrid and Barcelona. The Spanish royal family and the aristocracy wore his designs, but when the Spanish Civil War forced him to close his stores, Balenciaga moved to Paris. Balenciaga opened his Paris couture house on Avenue George V in August 1937.

However, it was not until the post-war years that the full scale of the inventiveness of this highly original designer became evident. In 1951, he totally transformed the silhouette, broadening the shoulders and removing the waist. In 1955, he designed the tunic dress, which later developed into the chemise dress of 1957. And eventually, in 1959, his work culminated in the Empire line, with high-waisted dresses and coats cut like kimonos. His often spare, sculptural creations were considered masterworks of haute couture in the 1950s and 1960s.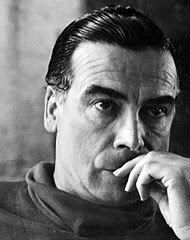 Balenciaga closed his house in 1968 after being disillusioned with the advent of prêt-à-porter, which was being introduced by the French.

He taught fashion design classes, inspiring other designers such as Oscar de la Renta, André Courrèges, Emanuel Ungaro, and Hubert de Givenchy. Today the Balenciaga fashion house continues under the direction of Nicolas Ghesquière and under the ownership of the Gucci Group.
Bio taken from wikipedia.org.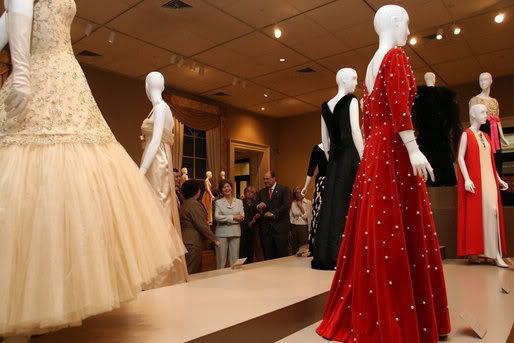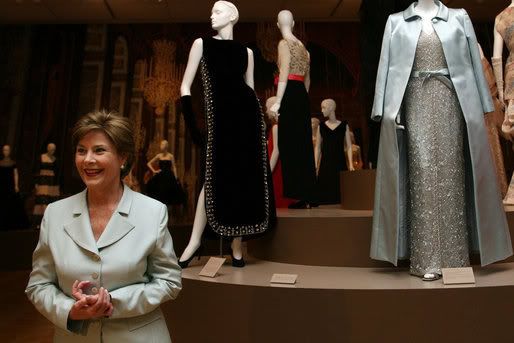 First lady Laura Bush attended the exhibit in May.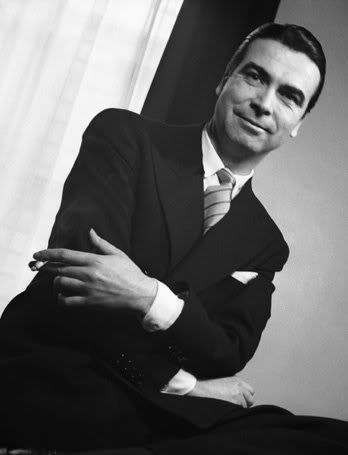 Balenciaga Designs -Here you can see how Balenciaga experimented with volume and the female silhouette to create inspiring and timeless pieces.
Balenciaga Exhibit Info -And since the exhibit is over. I'll share my experience with an extra credit paper I wrote for Fashion History:
Yvette Cortez
Spring, 2007

The Legacy of Cristóbal Balenciaga

Not being a morning person, I usually cringe at the thought of waking up at six in the morning. However, tomorrow morning was different. For my two fashion-obsessed friends and I had planned a road trip to Dallas; for a day at the first U.S. Balenciaga Exhibit in more that 20 years and a night of boogying in style.

Both groggy and excited, the three of us stumbled into the hall filled with tweed and wool structured suits. The museum also housed some Balenciaga influenced Oscar de la Renta and Hubert de Givenchy garments which were so beautifully made.
I was sure to read every plaque of every garment displayed and stared in awe at the masterpieces that stood before me. I made my way into what I will call a ballroom because it was filled with about forty ballroom gowns that seemed like they were slightly swaying to the beat of my footsteps and seemed as if they were dancing. As I passed each garment I received chills instantly.

The exhibit showcased seventy of the Spanish-born designer's works which spanned his most creative period from 1949 to 1968. I felt honored to be viewing this rarely seen collection of Balenciaga gowns, hats and other ensembles.


Cristóbal Balenciaga lived through a period of fashion history rich in creativity and invention. Many of his couture designs were inspired by a distinctly Spanish style, from his bullfighter "bolero" jackets to his use of madroños, an ornamental trim of tassels, to his Goyaesque shapes and colors.


The exhibition explores Balenciaga's legacy from the perspective of the women he dressed, the buyers and fashion editors who helped him build an international brand. The exhibition relies on the stories of Balenciaga's most devoted Texas clients to examine his lasting influence; Claudia Heard de Osborne, a Texas oil heiress and international socialite, had a close friendship with him. The other woman whose gowns will be on display is Neiman Marcus fashion buyer Bert de Winter. Her prophetic sense of style in the 1950s helped shape Dallas as a fashion mecca.
Cristóbal Balenciaga is arguably the most innovative, influential, admired and recognized Spanish haute couture designer of the 20th century, and his cult of perfection has influenced a generation of designers and will no doubt continue to do so.