For those of you unfamiliar with Daniel Vosovic, he left his mark on season two
of the Bravo hit series Project Runway. Season two stood out most to me because
it was my first year studying fashion design. Daniel V. was someone my peers and
I were deeply inspired by. At the age of 24, he had already achieved a sort of elegance
and sophistication that takes many designers years to realize. Unlike most reality
stars, Daniel's talent and determination gives him real staying power in the
cut-throat industry that is fashion.

You can imagine my excitement when I had the opportunity to interview him for
my blog! I wanted to keep the questions fun but informative. This interview was a
true inspiration for me to stay motivated and I hope it will do the same for all of you.
Many thanks to Daniel for taking time to do this for us!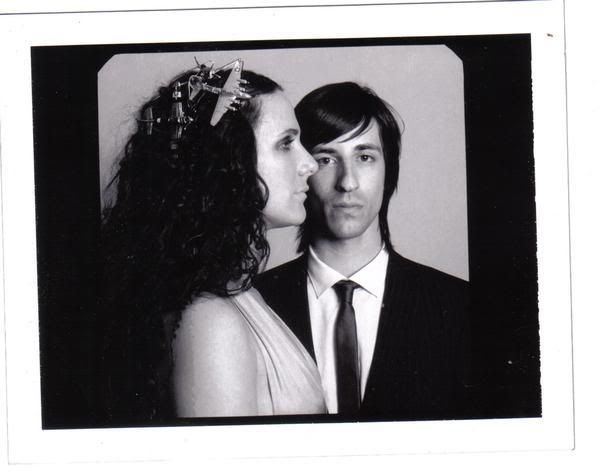 Currently, what generally inspires you in everyday life and design?
Books quite a bit, children's books. I like to clash seemingly opposing subjects into the same context and see what comes out. Music as well, I used to be a dancer and choreographer (yes, I know that sounds gay!) and listening to music helps to bring me to the level I need to be when I design.

On NYLO line:
I've read a lot about the NYLO line. Great idea! … Did the hotel give you full creative input in design?
Thank you. Yeah, NYLO has been completely receptive to my ideas and has pretty much given me total creative control - which I am very lucky for. There are of course restrictions to be taken into account, but when the objective is to simply make people feel "cool" when they work, it wasn't too difficult. Lord knows I've been there - done that!

On Favorites:
Since music inspires fashion and vice versa, I'm sure plenty of people would love to know... Who are your favorite music artists?
It really depends on my mood. I don't think most people know this about me, but I kinda like sad or depressing movies and music. I can't be "on" all the time, especially in this city, so when I relax or shut my brain off, it could be Phillip Glass, Air, Devotchva, Beth Gibbons, Cat Power, Tchaikovsky or Chopin (usually) but on a daily walking-around-NYC sort of day (off the top of my head): Everything But The Girl, Badly Drawn Boy, Kanye West, The Killers, Rufus Wainwright and The White Stripes...or just random shuffle.

Favorite female model(s)?
Daria Werbowy, Shalom Harlow and Raquel Zimmerman
Favorite male model(s)?
Danny Beauchamp and Mathias Lauridsen

On Project Runway:
Current Project Runway Favorites?
Rami, Jillian and Christian - all for different reasons.

Will you be attending the Project Runway showing at fashion week?
You know it! I think this season's group will present fantastic collections and I anxiously look forward to it. I'll also be out and about throughout the week... so be sure to come say hi if you see me. ;)

On NYC:
Do you love NYC life or what?
I've lived and traveled abroad quite extensively, but nothing feels more like home than NYC. Everything you can ever imagine is at your fingertips and for the taking, you just have to know how to ask for it. I also love, ESPECIALLY after a recent trip back home to the midwest, that everyone in NYC wears their freak-flag loud and proud. There are less secrets kept here and I like it - we're all on the same plane, all competing to survive in the same city.

How was your transition from Lowell, Michigan to NYC?
Freeing.

Must go places in NY:
DEBORAH on Carmine St for brunch and the dollar bookstore across the street. Crumbs bakery on 75th & Amsterdam (say hi to my roomie Caroline) and get a lemon cupcake while you're at it. SUPPER on 2nd st bet Ave. A and B (amazing pasta dishes - close to true Italian). The New Musuem on Bowery.

And finally, as talented as you are, I found it was a great idea for you to work under other designers before you released your own line. What designers have you worked with? What is in the future for Daniel Vosovic?
I wish all interviewers segued with such flattery! Haha! I've headed design for a small sportswear company Raven throughout 2007, but have freelanced for Calvin Klein and Donna Karen, though after I get these latest projects wrapped up I'll be looking to jump back in full-time... conformity is sometimes a welcoming thing!

My management team and I are well underway for laying the groundwork for my future company. It's difficult to put a specific date on release, it's more about instinct. I just want to feel comfortable, prepared, and to do things on my terms; I want a company that will last for decades, not for years, and if waiting a little while longer to do that will better prepare me, than that can only be a good thing. All the pieces will still be there ready to go.

Thanks ev, and to everyone, for the love and support, it truly means a lot to me. Until the debut of my signature line, keep an eye out on all I have going on in 2008: more NYLO (including KILLER BAGS!), my new book "Fashion Inside Out" which should be on shelves in the US and the UK by fall 08 and hopefully throughout Asia by end of the year - and my covers for the new NBC show Lipstick Jungle. Later lovers.
Sites To Check Out:
NYLO
Official Daniel Vosovic Site