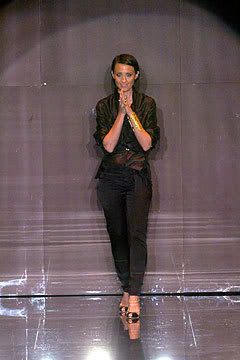 They're big shoes to fill, but
Alessandra Facchinetti
is going to give it her best shot as the house of Valentino announced today that the former Gucci designer will take the reins from Mr Valentino himself. After months of speculation, the legendary designer's decision to resign was announced yesterday, with Facchinetti's name immediately being mentioned as the favourite to succeed him. "We believe that we have chosen a design team able to give strong creative content and that Alessandra Facchinetti is the designer who can interpret and continue the legacy of Valentino's core values at the best," said Stefano Sassi, Valentino Fashion Group's ceo. Facchinetti famously took Tom Ford's spot as head of womenswear at Gucci in 2005, only to resign two seasons later following "a disagreement with management". She will have back-up in the shape of Maria Grazia Chiuri and Pier Paolo Piccioli, Valentino's accessory designers, who will continue in their current creative positions, as the house announces a shift in focus to menswear. "I am honoured to be part of this new project," said Facchinetti. "Mr Valentino has always been a point of reference for me, an icon for his sense of style and elegance. My admiration and respect for him is endless. I will dedicate myself to this new project with great passion and enthusiasm, treasuring everything that has been done thus far, and be ready to present my first collection in March 2008." Valentino will exit after just one more ready-to-wear and one Couture collection, marking the end of a fashion era.
Leisa Barnett
(September 5 2007, AM)
Source:
Vogue.com
On another note... New York Fashion Week has officially kicked off. So stay tuned for lots of updates this week!